Integrative Dance
Rhythm Works Integrative Dance is an inclusive class that focuses on foundational skill development, self-empowerment, independence and celebrating our diversity. Offered as individual or group classes, we offer RWID classes in dance studios/gyms, schools, community centers and therapy clinics across our community!
As certified instructors we understand that each student learns in their own way, at their own speed. They understand that our internal and external sensory environments can affect a students ability to participate and will make every accommodation possible to ensure that your dancer is in a safe and comfortable learning environment. We are trained to work together with any client therapists to incorporate elements of therapy goals into class to assist with skill development across 5 domains and utilize multiple teaching strategies to reach all learner types.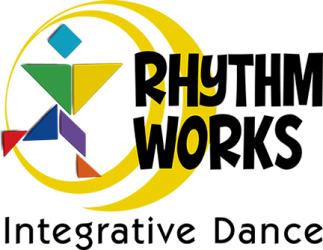 But most importantly, we are waiting for you and your dancer with open hearts and open minds. Yes, they expect challenges, but that's part of the process. Know that they will not give up on you or your dancer!
Student Benefits
To our students, it's a super-fun dance class! But to our Certified RWID Instructors, it's also an opportunity to build foundational skills that benefit participants both in and out of dance class! Gross Motor Skills, fine motor skills, cognitive processing, memory & recall, Executive function, motor planning, motor execution, social skills, strength, flexibility, body/self awareness, expressive language, receptive language, force grading control, focus"
Check out some photos
from this program
in action!