What We Do
At Kindermotion, we proudly offer original world renowned programs tailored for children aged 15 months to 12 years. Our unwavering commitment revolves around building self-confidence and self-esteem while nurturing a deep love for movement and dance within an inclusive, non-competitive environment.
Kindermotion is more than a dance and movement program; it's a developmental curriculum that inspires children to embrace learning by seamlessly integrating it with their natural love for movement, music, and dance. As they groove and play, children absorb essential concepts like numbers, colors, shapes, and vocabulary. This unique approach enhances their physical, socio-emotional, cognitive, and communication development.
Our classes are conveniently conducted onsite at your child's daycare, preschool, elementary school, and after-school care facilities, ensuring accessibility and enrichment for children, families, and educators alike."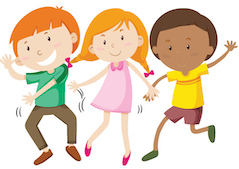 A happy child is a Joy to Behold! Anyone who has ever watched a child jump for joy when a parent comes home knows intuitively that small children express their feelings with MOVEMENT as well as words. Movement, music and DANCE can be natural tools for learning. Influential child psychologists and educators like Piaget and Montessori agree that a planned developmental program in MOVEMENT should be part of every child's education. Since early childhood education is the foundation for higher education, how a child "learns to learn" will have a lasting influence throughout his or her school years. Kindermotion, where children "learn how to learn" when they learn how to DANCE and MOVE!